Last month saw another celebrated moment in the history of ReSkills EdTech, as it entered into a formal partnership with Universiti Malaya, one of the most prestigious local universities in the country.
The company signed a Memorandum of Understanding (MoU) with one of the university's divisions, namely the Universiti Malaya Centre of Innovation and Enterprise (UMCIE). The signing took place at the Auditorium of the Universiti Malaya KPPI Building on Jan 8.
The MoU's aim is to improve understanding between both institutions, and to establish mutually beneficial collaborations benefiting their members. This signing is to represent the first steps for both parties in achieving their shared goals.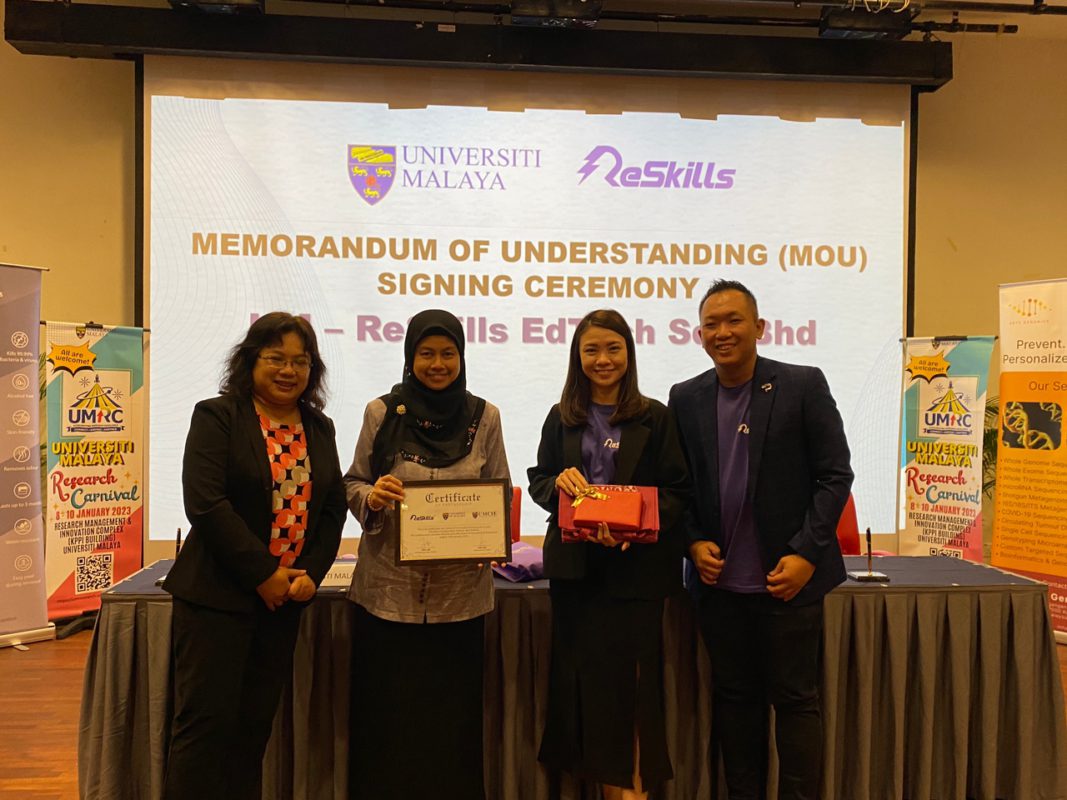 Universiti Malaya Deputy Vice-Chancellor (Research & Innovation) Professor Ir. Dr. Shaliza Ibrahim and ReSkills EdTech Head of Marketing Yen Lee signed the MoU, with UMCIE Director Prof. Dr. Ivy Chung and ReSkills EdTech Deputy General Manager Stanley Goh serving as witnesses.
In her speech, Prof Ir Dr Shaliza Ibrahim said their ReSkills collaboration was an invaluable opportunity for students to expand their knowledge and sharpen their skillsets.
"Industry-academia partnerships are essential to the success of student entrepreneurship, startups, and research commercialization. I believe through these partnerships, we can create more opportunities for research commercialization, allowing researchers to take their research from the lab to the market," she said.
"We have always held UM and UNCIE in high regard, and have long been impressed by your stellar reputation for excellence. It therefore gives us great honour to collaborate with them," added ReSkills EdTech Head of Marketing Yen Lee.